Rental prices for Brisbane houses have again skyrocketed to record heights, with new data revealing the Queensland hot spot outpaced every other capital in the country for annual growth last year, with experts warning there's more to come.
Released today, Domain's December 2021 Rental Report shows house rents rose on average by $20, or 4.3 per cent, over the quarter to $480, and by 12.9 per cent over the year to cement what is now the longest period of continuous house rent growth in the city's history.
The second-best performing city was Canberra, where house rents rose by 12.5 per cent over the year to $675 per week.
For the Queensland capital, it's also the biggest quarterly price jump in 15 years, with unit rents also rising by $10 over the past three months to reach a record high of $420 per week.
HOUSES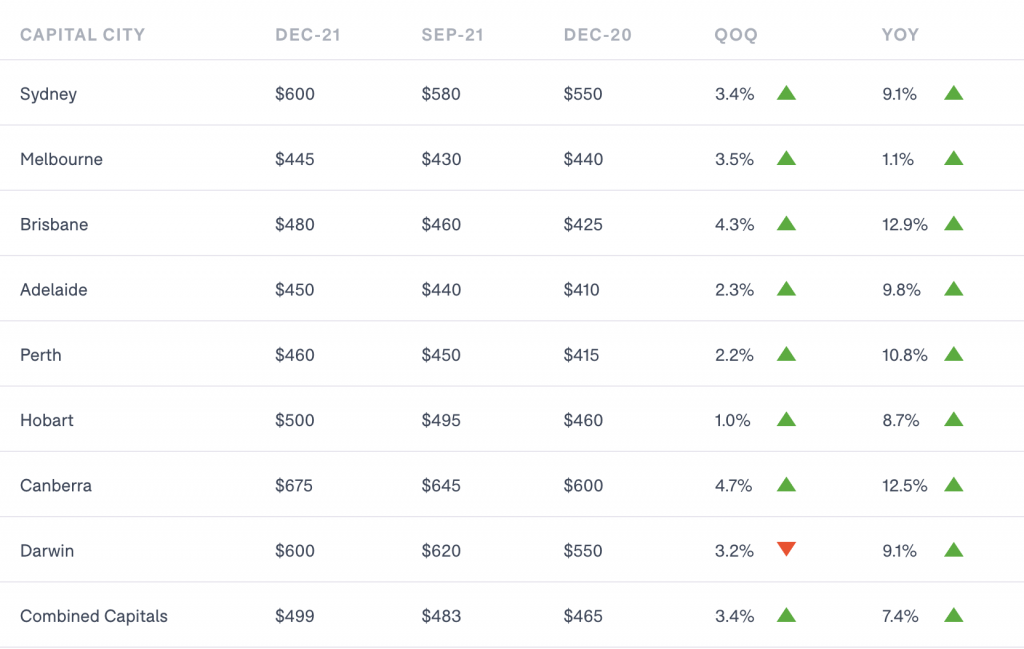 Brisbane is more expensive than Melbourne, Adelaide and Perth for house rents, with Canberra remaining the nation's most expensive hub for tenants.
The report sums up a bumper year for Brisbane, with unprecedented rates of interstate migration fuelling record property price hikes that led to several suburbs across the city joining the million-dollar-median house price club.
Domain chief of research and economics Nicola Powell said the rate of migration, particularly from working families, placed pressure on the house rental market, and suggested the March 2022 quarter would likely mark yet another price milestone.
UNITS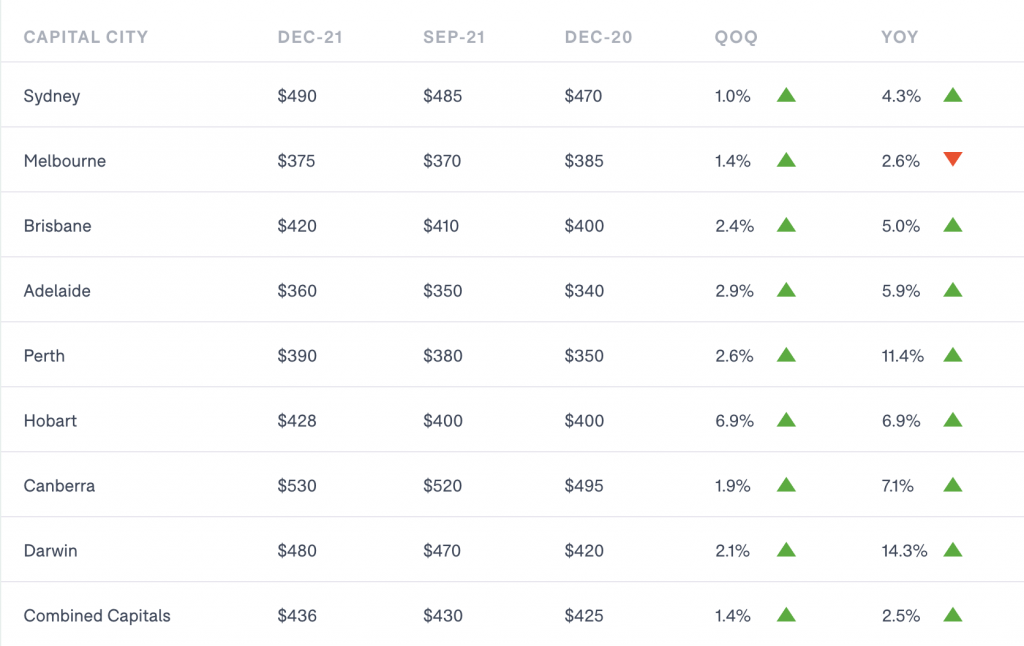 "Tenants could be staring down the barrel of weekly house rents of $490 or $500 over the next quarter," Dr Powell said.
"We're now in the busiest change period of the year and landlords can re-negotiate and they will be moving their rents to market rate.
"And with the international border re-opening hanging over our property markets, and with it the volume of overseas migrants moving into Australia … it's going to place further demand on our rental and sales market."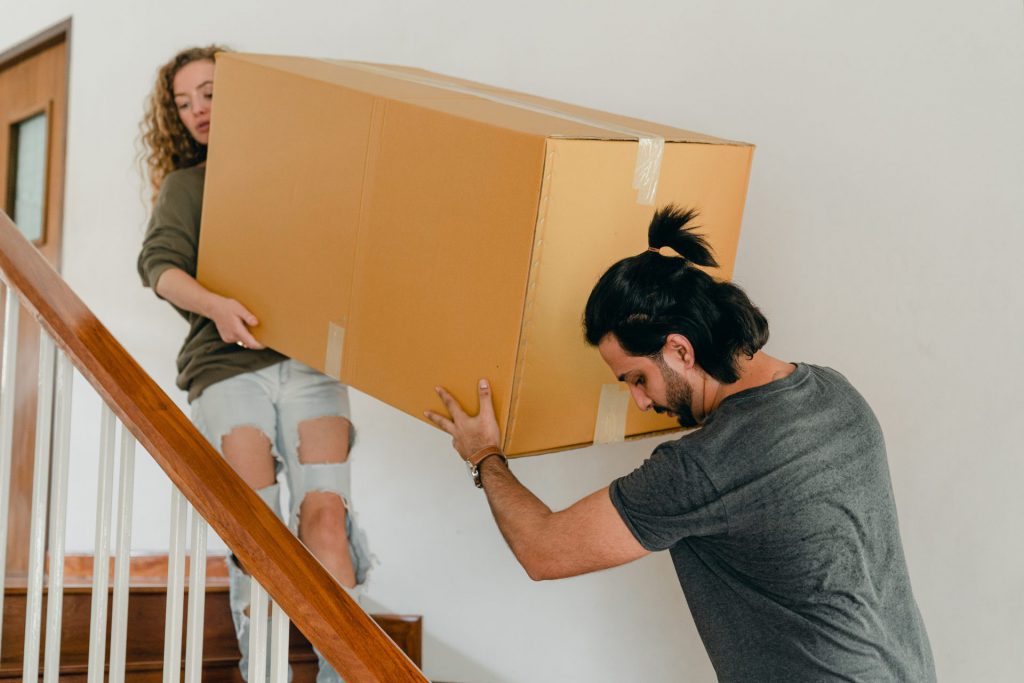 Dr Powell said all regions across Greater Brisbane climbed to record high house and unit rents over the December quarter, with a record rent price gap also clocked between house and unit asking prices.
"Families in their prime working years are the biggest demographic in terms of positive net influx into Brisbane and they want a family home," she said.
"But I think this report really shows that Brisbane is in the spotlight. It's got the highest rate of growth compared to any capital and it just pips Canberra. When you look at the other growth cycles like Perth, they've come off their peak."
HOUSE YIELDS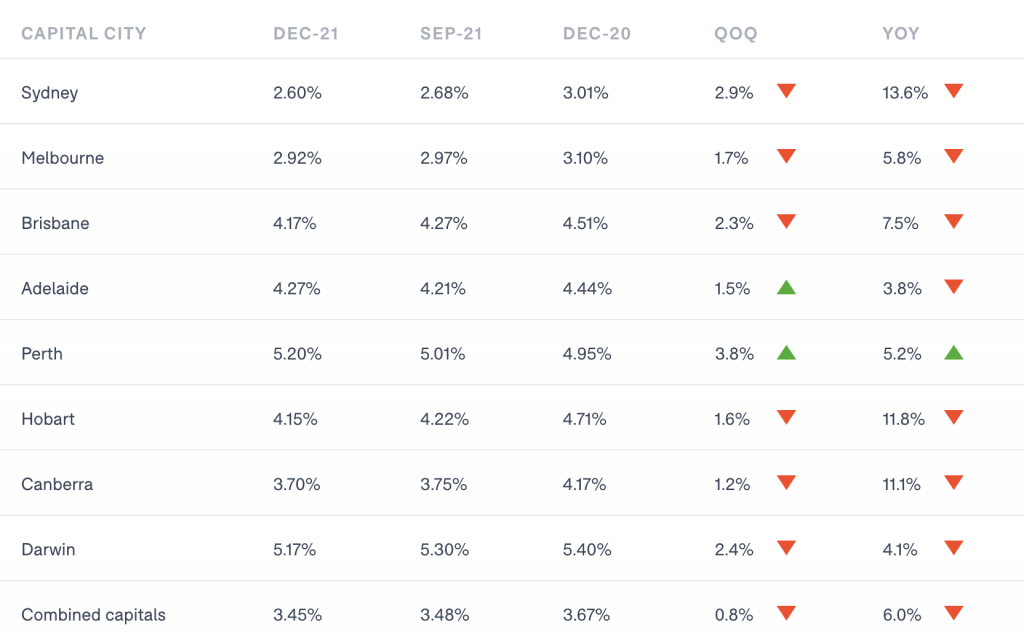 The report further revealed that house rents in the Queensland capital's inner-city east region are now the most expensive, after prices climbed 3.2 per cent to $640 per week.
Despite the pandemic sparking a lifestyle shift towards bigger homes with a backyard, Domain data released last week showed Brisbane's inner-city region claimed the nation's largest monthly decline in vacancy rates over December.
UNIT YIELDS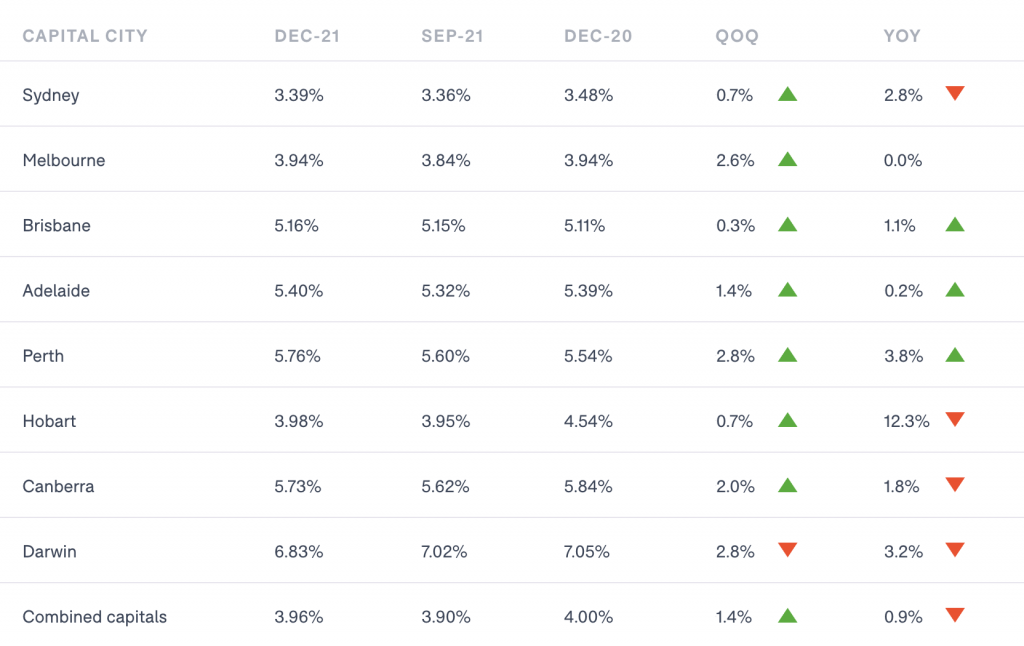 The Domain December Rental Report revealed houses in Greater Brisbane's Moreton Bay North region collected the largest quarterly rent rise of 12.5 per cent (or $50) to $450 per week.
At the other end of the spectrum, units in Logan's Springwood/Kingston region topped the list for affordability, after prices remained stagnant at $285 over the quarter.