After spending more time at home than ever, more of us are keen to move into a bigger place, borrowing at ultra-low interest rates and spending up big at auction.
But there's a grim flipside: the old chestnut of housing affordability and the prospect that many young people in Australia's largest cities might never afford their own home.
Even with low interest rates, the hurdle is the deposit gap, and that hurdle keeps getting higher.
Sydney's median house price is now an extraordinary $1.41 million, after spiralling 24 per cent from a year ago, according to the latest Domain House Price Report for the June quarter.
A 20 per cent deposit would be – wait for it – $282,000. On the avocado toast index, that's 12,818 cafe breakfasts, so saving this kind of cash is unlikely for most first-time buyers, and many are getting help from the Bank of Mum and Dad.

Melbourne and Canberra joined the million-dollar club (up 16.2 per cent and a whopping 29.2 per cent, respectively). Spare a thought, too, for Hobart locals, where prices leapt 28.4 per cent in 12 months, with double-digit rises also recorded in Darwin, Brisbane, Adelaide and Perth. Experts are startled and nervous.
ANZ senior economist Felicity Emmett went ahead of the pack in March when she forecast overall capital city housing price growth of 17 per cent this year, warning it would lock some aspiring first-home buyers out. But she was still surprised to see the latest sharp gains.
"If you don't own a home, that deposit hurdle has become much higher," she said. "For prospective first-home buyers, it is very, very difficult to get into the market."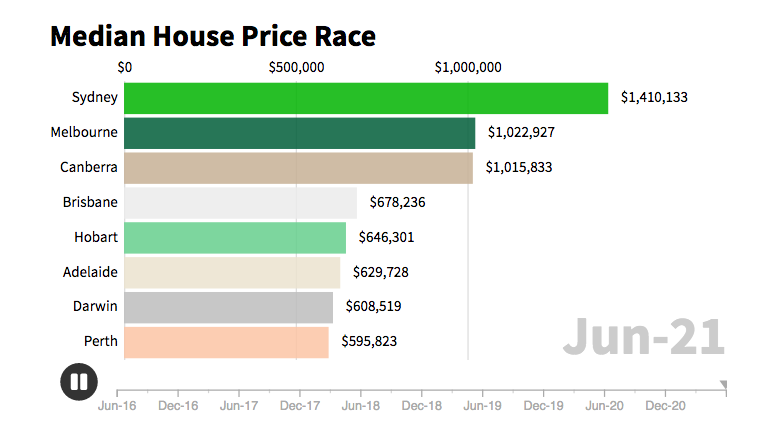 Although the data is for the period until June 30, when Sydney's latest lockdown had just begun, the figures are stark reading against a backdrop of new stay-at-home measures that have put many out of work in Australia's largest city – a reminder of the extended restrictions in Melbourne last year and snap lockdowns in other capitals in between stretches of economic recovery and optimism.
Support payments were on offer, and workers returned to their jobs as the health situation improved, but they bear the scars of income forgone.
"It makes me really sad seeing these kinds of figures," University of Melbourne housing research fellow Kate Raynor said. "It's really positive if you own your own home, but the equity implications of this are really huge.
"[An almost] 30 per cent increase in Canberra is a horrific outcome from a housing equality and equity perspective."
She points out that casual workers on lower incomes were probably not about to buy property anyway, a departure from the opportunities afforded to previous generations.
"The people who were suffering most from the pandemic are the furthest from being able to buy a house," she said.
"Twenty-five years ago, if you were a low-income household, you could still consider it.
"If you're living in Sydney and you don't have wealthy parents … I think that dream is pretty dead unless you're going 40 kilometres, 50 kilometres out of the CBD."
Housing expert Chris Martin also raised the equity issue.
"One way of looking at these alarming figures is in terms of inequality," the senior research fellow at the UNSW City Futures Research Centre said.
"[It is a] drastic increase in wealth for property owners while, in Sydney especially, real economic activity is being suppressed, and a growing number of households are losing work and income.
"How gruelling would that be for someone to have their income from work disrupted as it has been in numerous cities numerous times over the past year … they're losing out while houses make even more money than they ever have."
He adds that it's savers income that gets taxed, but wealth stored in the family home is untaxed and can be transferred to adult children to help them get into the market, leaving anyone without this assistance behind. "It's grim," he said.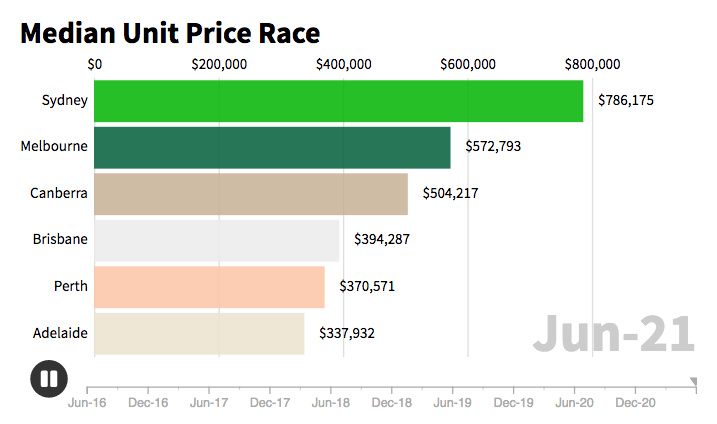 Is there any hope? Depending on their family situation, first-time buyers could look to apartments instead of houses, where the pace of growth has been more subdued, although four cities are at or close to record unit prices.
The federal government's First Home Loan Deposit Scheme has helped 10,000 first-home buyers into the market for each of the past few financial years and has since been expanded to new homes and single parents. It allows the purchase of a modest home with only a 5 per cent deposit, up to city-specific price caps, if you can find a home within budget that works. The HomeBuilder grant for new builds has ended, and state governments offered temporary stamp duty savings, and the uptick in first-time buyers is subsiding in tandem.
A widespread shift to working from home allowed some city workers to move to cheaper outer suburbs and commute two or three days a week, pushing up prices in some outer-ring neighbourhoods.
A similar move from cities into affordable regional towns has sent regional house prices through the roof, with a dozen regional areas rising more than 30 per cent in a year.
Picking between an apartment that a family will grow out of or moving to the urban fringe is an "unenviable choice", Grattan Institute program director for household finances Brendan Coates said.
"It does put more pressure on the government to do something to improve housing affordability," he said.
"Housing affordability looks like it's going to be a big discussion point heading into the federal election."
It won't be reform to tax concessions for property investors, with federal Labor this week dumping a policy that would have curbed negative gearing tax breaks.
But he welcomed an upcoming federal inquiry into housing supply that will consider zoning restrictions that make it harder to build new medium-density housing in the inner and middle suburbs.
"Unless governments start to face up that there is a real, growing problem here, housing affordability will continue to worsen, fewer Australians will own their own homes," he said.
"Given how important housing is to the Australian dream, that's a sad thing."
Source: https://www.domain.com.au/news/australian-house-prices-grim-picture-for-housing-affordability-as-pandemic-prices-skyrocket-1075871/