All but one of the top-selling suburbs for houses this year are located in New South Wales, owing to the state's particularly strong property market.
Data from PropTrack has identified the 10 locations around Australia where median prices have seen the biggest percentage increase over 2021. House prices have soared by more than 50 per cent in a handful of standout suburbs this year, new research shows, an extraordinary pace of growth that is unlikely to be repeated.
Despite lockdowns increasingly looking like a thing of the past, Melburnians are still swapping inner-city living for a dream lifestyle that's a little slower and a lot nicer, he said. As a result, some locals are cashing in at the height of the market and either upgrading or relocating elsewhere.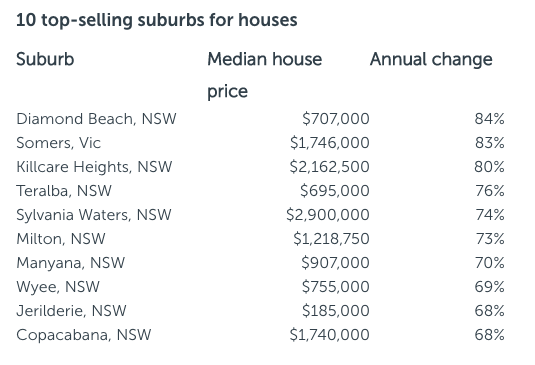 Property prices have soared this year on the back of ultra-low interest rates, government stimulus, cash saved during lockdowns, a shortage of homes for sale and a desire for more space from families stuck at home.
Sales volumes reached the highest levels in almost 18 years, at an estimated 614,635 sales over the past 12 months, CoreLogic found.

Dwelling values nationally rose 22.2 per cent over the year, the highest jump since 1989, and in stark contrast to the 3.1 per cent annual growth rate a year earlier as the market started to shrug off the uncertainty of the early days of the pandemic.
Demand was strongest for detached housing, with values up 24.6 per cent, compared to a 14.2 per cent rise in unit values, amid strong demand from owner-occupiers compared to investors.
Across the capital cities, suburbs where unit values rose strongly were split between affordable neighbourhoods in focus for their cheap prices, and prestige or lifestyle hotspots.