Aussie house prices have been rising at dizzying speeds since the Reserve Bank slashed interest rates in March last year. According to the Australian Bureau of Statistics' Property Price Index, values rose by 7.5% across the eight capital cities over the following 12 months, and the expectation is they have not yet hit their peak.
Looking at growth rates on their own, however, does not provide a full picture. Take the suburb of Andrews Farm in North Adelaide, for example; house prices have risen by 5% in Andrews Farm over the past 12 months, up from a median of $281,000 to $295,000 in May 2021. This equates to an increase of $14,000 in 12 months.
House prices in Melbourne's Moonee Ponds have also increased by 5% during the same period, rising from a median of $1,311,500 to $1,377,000 – a rise of $65,500.
Across Australia, more than 250 suburbs have seen house prices increase by $200,000 or more over the past 12 months. In 24 suburbs, prices have risen in excess of $50,000 each month.
Top 10 suburbs for median house price rises
VICTORIA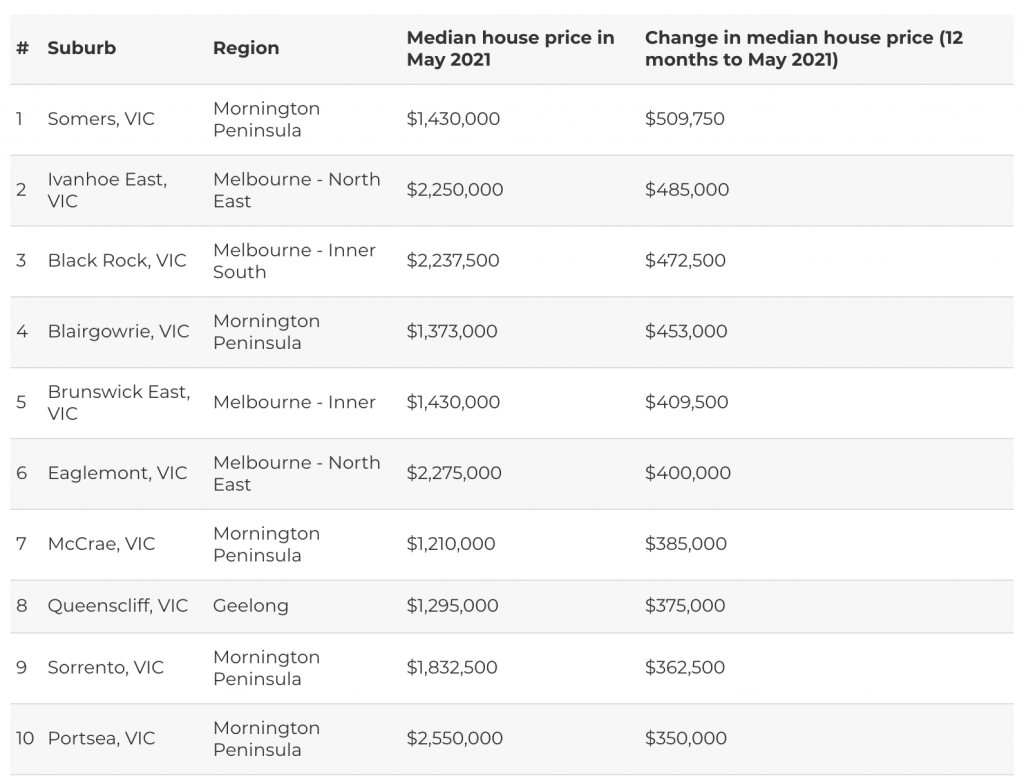 NEW SOUTH WALES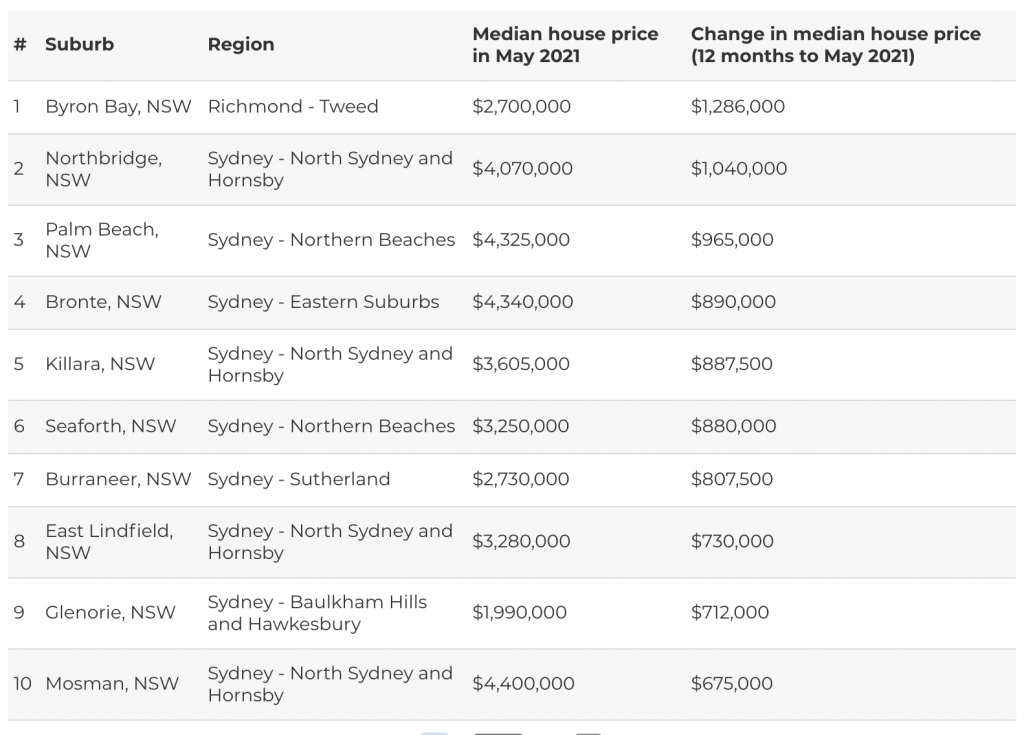 Australia's most expensive state, New South Wales, accounted for 88% of these $50,000-plus monthly growth suburbs. Of these, suburbs in the Northern Beaches and eastern suburbs accounted for the majority.
The suburb that has seen the highest dollar value increase in median house price in the country, however, was Byron Bay. The surge in demand for scenic, beachfront suburbs and maybe even the "Hemsworth effect" have seen median house prices in Byron Bay increase by more than $100,000 each month over the past year. The median cost of a house in Byron Bay is now $2.7 million, compared to $1.4 million just 12 months ago.
Access to the water was also a key driver of price growth in Western Australia, where the riverside suburb of Dalkeith and oceanfront Cottesloe came out top, recording median house price rises of $495,000 and $460,000, respectively.
QUEENSLAND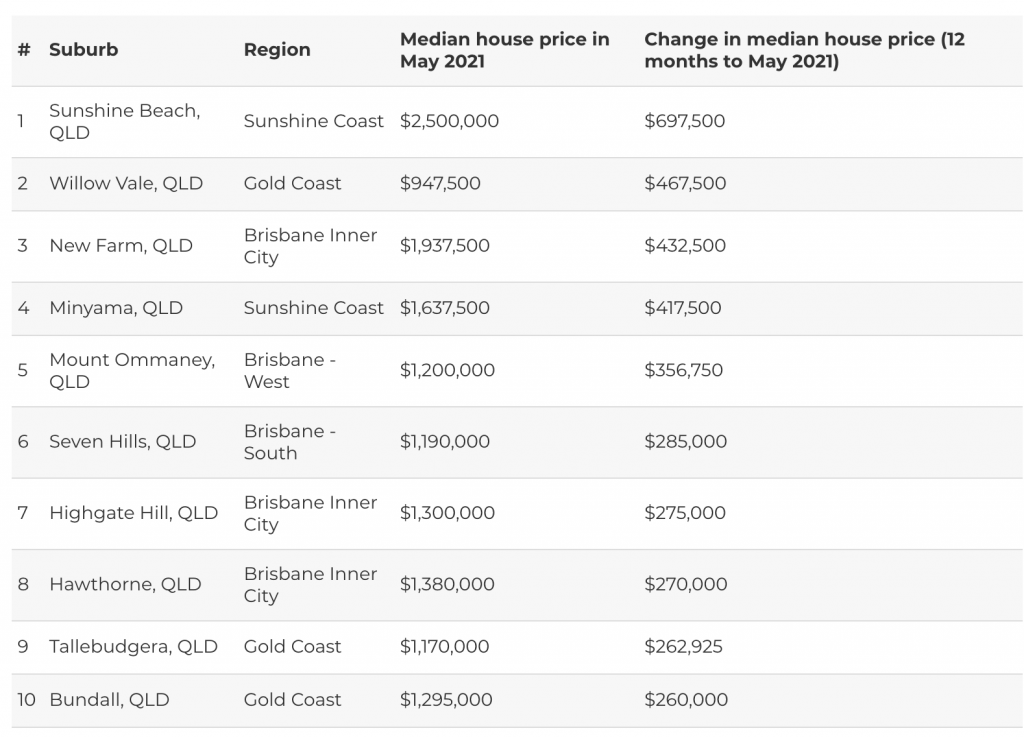 SOUTH AUSTRALIA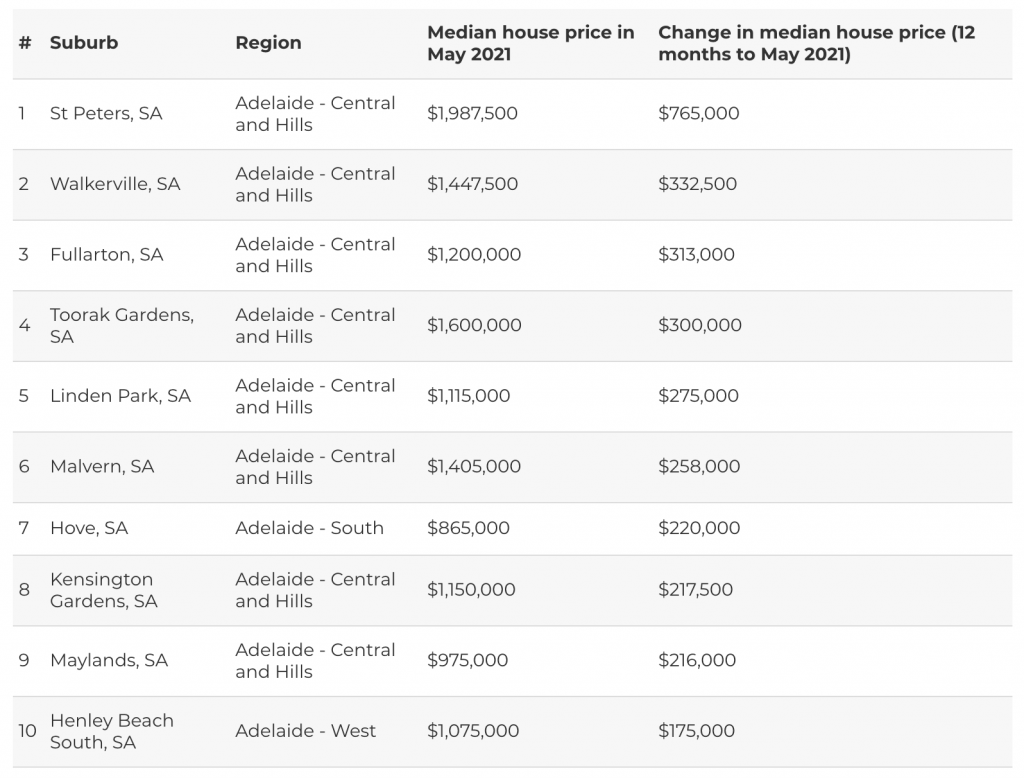 WESTERN AUSTRALIA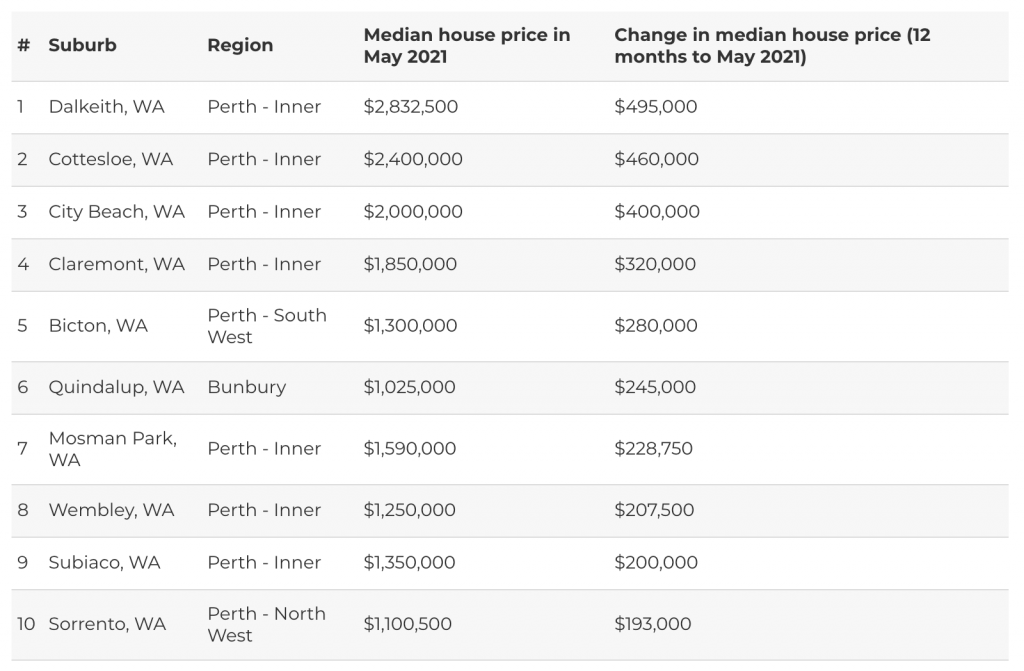 NORTHERN TERRITORY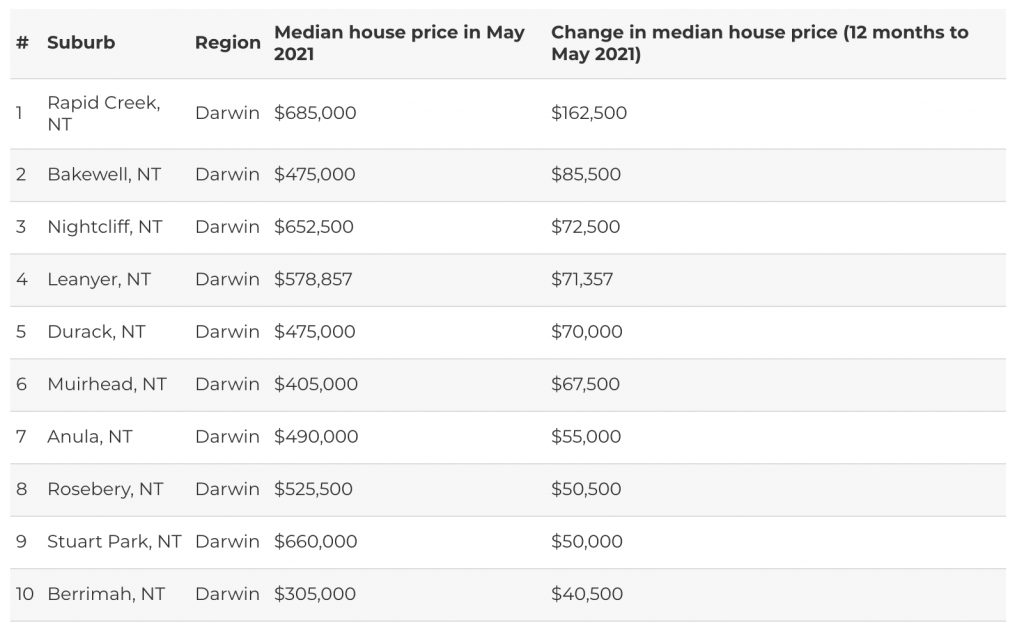 AUSTRALIAN CAPITAL TERRITORY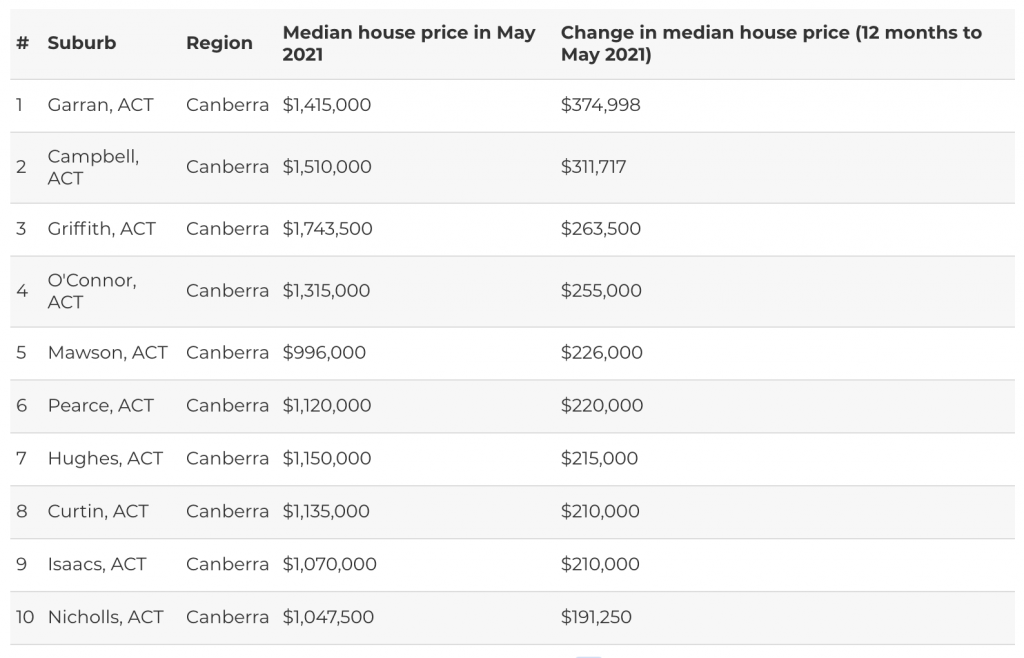 TASMANIA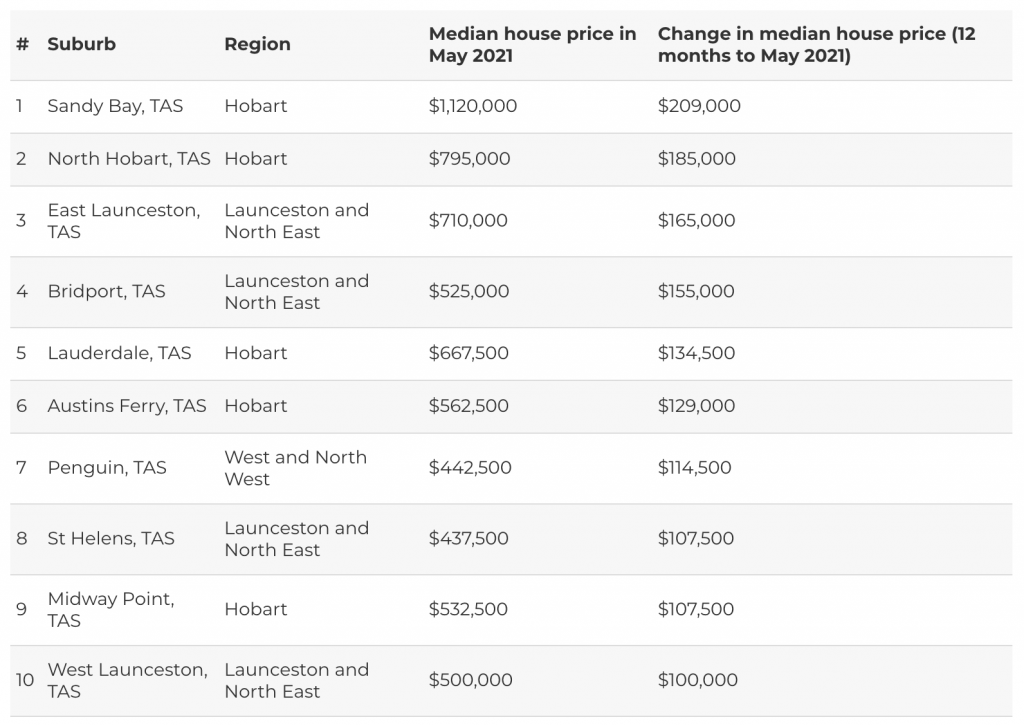 While this price growth will be great news for those who already own homes in these suburbs, and are maybe looking to move elsewhere or downsize, it is a very different story for those looking to buy into these areas.
The median taxable income in Australia is just under $60,000. In many of these fast-growing suburbs, the mere cost of the 20% deposit has increased by more than this amount in just one year.
For first-home buyers and those who own properties at a lower price point, many of these areas are becoming increasingly unattainable.