Borrowers could see higher mortgage repayments within weeks, with the Reserve Bank of Australia (RBA) increasing the official interest rate for the first time in more than a decade.
The RBA board on Tuesday decided to increase its cash rate target by 25 basis points to 0.35 per cent, in a bid to control inflation which, according to the most recent figures from the ABS, is rising at its fastest pace in 21 years.
The cash rate target serves as a benchmark for home loan interest rates, and whenever the RBA increases the cash rate, lenders tend to follow suit by increasing variable interest rates. That means borrowers could soon see their mortgage repayments rise. 
See how much your monthly repayments would be.
CalculateDomain Home Loans, Credit Representative 500208 of Auscred Services Pty Ltd, Australian Credit Licence 442372.
So now that the cash rate has gone up and is predicted to continue rising over the coming months, what will this mean for home buyers and home owners with mortgages?
How will rising interest rates affect home buyers?
Buyers looking to enter the property market could see a reduction in their borrowing power as a result of the cash rate increase.
When banks approve home loan applications, they assess borrowers' ability to repay their home loans at an interest rate several percentage points higher than the mortgage rate, known as the assessment rate.
With interest rates and mortgage repayments now rising, some potential borrowers may see a reduction in the maximum amount of money they could otherwise have borrowed, as lenders look to ensure that borrowers will be able to continue repaying their home loans, even at higher interest rates.
Buyers may experience different levels of reduction to their borrowing power, depending on their circumstances and the lender, says Gregory Boustead, home loan specialist at Domain Home Loans. 
"It will be a case-by-case scenario, so it's definitely worth speaking to your broker about," he says.
Although rates are predicted to continue rising incrementally, the impact to buyers' borrowing power may only be marginal to begin with, says Diaswati Mardiasmo, PRD Real Estate's chief economist.
"It may not be a lot," she says. "It could be that instead of being able to borrow $400,000, for example, they are only approved for $380,000 or $370,000." 
On the plus side for buyers, it's expected that rising interest rates will slow house price growth, potentially making it easier for first-home buyers to get into the market.

How will rising interest rates affect home owners?
Home owners on a fixed rate may be unaffected in the short term, depending on the term of their fixed loan, but it's important to check when the term expires to plan ahead, says Mr Boustead.
At least four to six weeks before the fixed term expires is the recommended time frame in which to review your mortgage and speak to your broker or lender about your upcoming options. 
However, home owners with variable rate mortgages could see their repayments increase within the next week, if banks move swiftly to pass on the rate rise. 
aving the ability to tap into additional savings or a mortgage offset account could help soften the impact of an increase, says Dr Mardiasmo.
"If your home loan has an offset account and you have a high amount of money in that account, then a small change in interest rates may not impact your monthly repayments as much," she says. "But, if you don't have an offset account, you will definitely feel more of an impact." 
Whether you're on a fixed or variable rate, making additional repayments now and actively saving money could also help borrowers prepare for larger repayments in the future, says Mr Boustead.
"If you are able to save that little bit extra every month or every week, start putting that money aside now," he says. "That way, if rates do climb further, you're in a position where you can move money from additional savings to your home loan."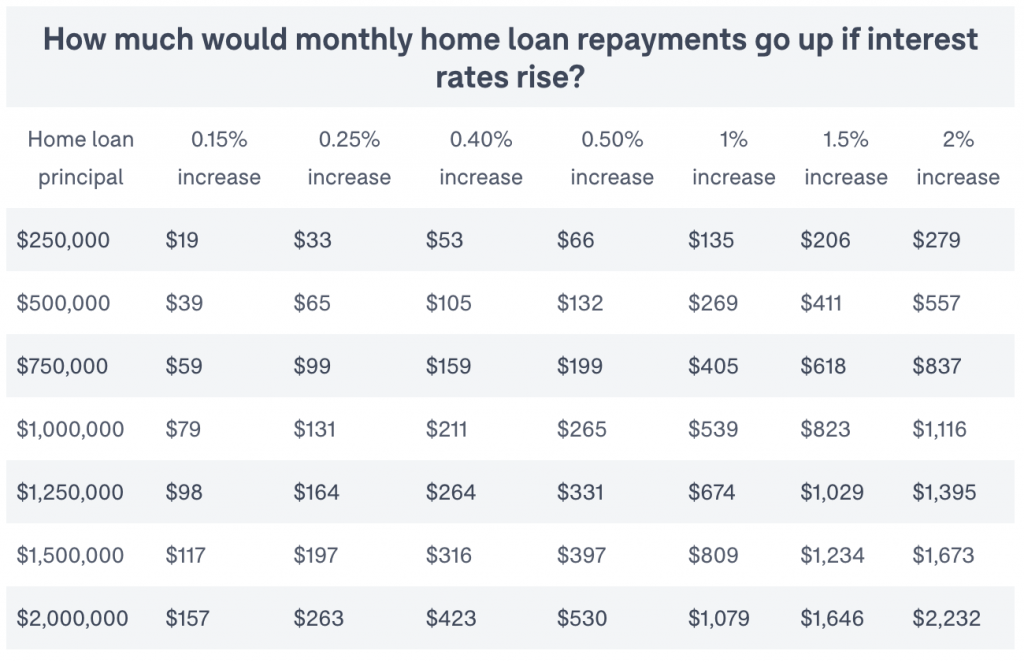 The above table shows the approximate amounts monthly home loan repayments could increase if interest rates rise. Based on a 30-year principal and interest loan with an initial 2.5% interest rate. Information is intended as a guide only. Fees and charges excluded. 
Why has the RBA raised the cash rate?
While it may seem counterintuitive that the RBA has increased rates at a time when the cost of living is already rising, they have done so in a bid to slow demand in the economy and counter rising inflation.
Rising interest rates mean borrowers will have higher repayments and less money to spend, which the RBA hopes will reduce demand and ease pressure on the prices of goods and services. This also works to discourage new and existing home owners from borrowing beyond their means.
What happens next?
Following Tuesday's announcement, banks and lenders will likely start preparing to shift their interest rates.
While there's no legal obligation for banks and lenders to follow suit in the RBA's decision to hike, it's predicted they'll closely follow the RBA's trend upwards, says Dr Mardiasmo.
"History tells us they move very, very quickly," she says. "I would say changes can happen within the next 30 days or so."
Source: Click here